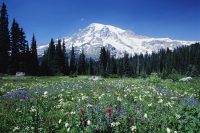 Unable to make a monthly commitment? Consider making a one-time donation to support the Sierra Club's efforts to preserve wild lands and wildlife, keep our air and water clean, and solve global warming.
Make a One-Time Donation
Welcome to the Sierra Club
Everyday the Sierra Club is working to save our wild lands and wildlife, keeping our air and water free from pollution, and mobilizing our 1.4 million members and supporters to fight for our environment.

Monthly donations give the Sierra Club a dependable base of support and make sure we have the resources to explore, enjoy and protect the planet.

Your monthly gift gives you these great benefits as a member of the Sierra Club:

Subscription to SIERRA Magazine
Best-selling Sierra Club Wilderness Wall Calendar
Special Conservation Updates by Sierra Club's Conservation Director
Semi-annual Wilderness Guardian newsletter
Members-only ecotravel opportunities
Automatic membership in your local chapter
The Sierra Club needs your ongoing support now more than ever - make a monthly pledge commitment as a Wilderness Guardian today!
To join the Wilderness Guardians, please fill out the form below and submit. Required information is marked with an asterisk (*).
---
Thank you for your contribution. You gift will support our efforts to protect America's wildlands and wildlife, keep our air and water clean, and solve global warming.
Note: Contributions, gifts, and dues to the Sierra Club are not tax deductible. They support our effective, citizen-based advocacy and lobbying efforts. Your dues include $7.50 for your subscription to Sierra Magazine and $1 for your Chapter newsletter.
(Additional financial and regulatory information.)